My latest harness was made for a customer's Proud Arabian Stallion(aka the "PAS"), a model not high on the request list thanks to newer and more popular Arab molds. It gave me a chance to pull off the shelf an old friend from 1991.
I recieved "Thee Snowghost" as a late 14th birthday gift, he was my fourth Breyer ever, but my first Breyer I ever recieved after I discovered the hobby(via the Christmas 1990 HI article). He was also my first photo show horse, winning third place in the dapple greys class in Alison Benuish's Beginners Only show. I was so proud of my boy!
So it was fun creating some tack for him, and this was the final product(sorry there's only the one photo, the batteries were dying and the harness needed to be shipped out in time for a show):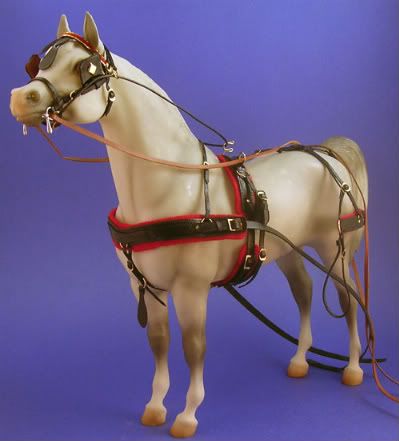 Also, up on
eBay
this week is this Western snaffle bridle for Impress Me Shannon: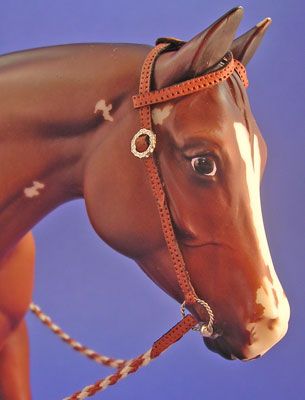 I made the bit, it's twisted from 32 gauge silver wire with a bead mouthpiece. I think every tackmaker should make their own hardware every now and then, be it bits, buckles, hooks, etc(I always make my own checkrein hooks on my harnesses).
Manufactured hardware is great and I'm thrilled the hobby has such talented crafters such as Rio Rondo and Sulser Saddlery and I love working with their creations, but it's fun to make my own, and it lends a certain individuality to the piece.
Until next time!