Here is preview of a new tack set I will be offering for custom order in the future, long rein schooling bridle and surcingle sets: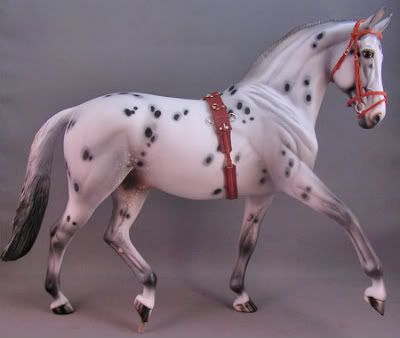 A little history- last summer we attended the Buccaneer Live model horse show in Lincoln, Nebraska. I was showing in performance with three new models, including a Stone half-passing Warmblood. While he's doing a nice half-pass, with his loose mane I was hedging on showing him in dressage (where he would be competing against Salinero and his near-perfect passage as well as his correctly braided mane!).
Some posters on Model Horse Blab were throwing around ideas for the mold, and member "ktbussey" suggested a long rein schooling setup, one of own having won big at a previous North American Nationals show. Perfect!
So after a quite a bit of digging on the internet and at the local library (never underestimate the value of libraries!) this setup was the result. The reins were black satin ribbon. I felt like this material works best as it mimicks real nylon web long reins, which are used far more often on these rigs than leather reins.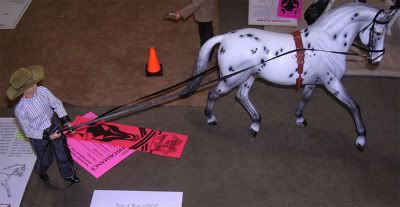 And as you can see, it did quite well. The black bridle shown in the above photo was later refitted with riding reins and used for another set. The surcingle was put away for several months, then it came time to create some tack to sell on eBay, and I was inspired to make a new set with a new bridle that better matched.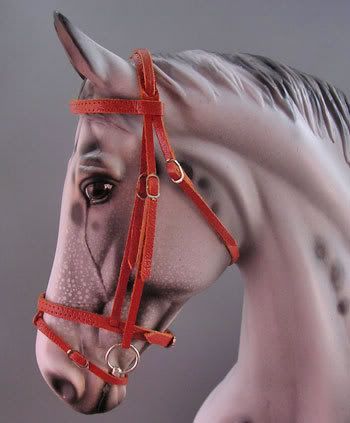 I didn't have any matching 1/16 lace this time around, but plenty of 3/32 lace. So I put my trimming skills to work and created my own 1/16 lace. Not as hard to do as one would think, provided you skive the lace first and have a good eye for keeping the blade on a straight course.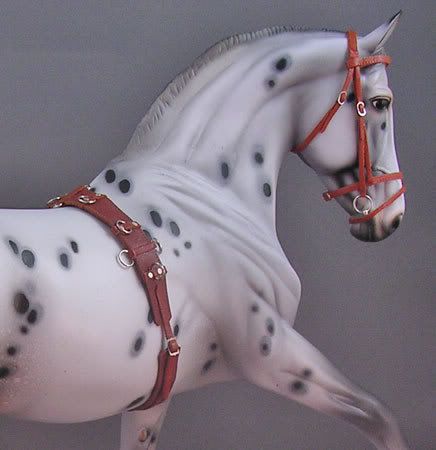 It also fits Salinero with adjusting (the reins were not shown for aesthetic purposes, I simply could not get them to sit right! They are meant to be shown at full stretch...):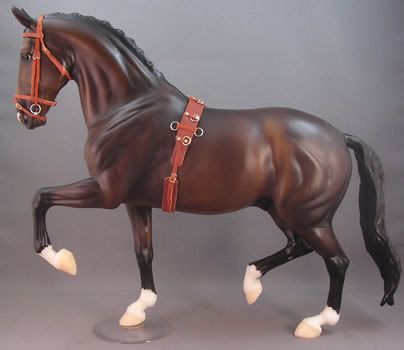 I will be making more sets like these in the future, as well as offering slots for custom orders. Price will be in the $50-$70 range depending on options.
Until next time!