It's been awhile! Here are some of my most recent projects:
A Classic scale circus costume, made for the Breyer Classic Rearing Stallion(shown here on "Wild Plum", a 2007 Target Special Run). It has brass hardware, the diamonds and stars are brads normally used in scrapbooking. They make excellent small scale tack embelishments, I also use them on harnesses. Won second place in Other Costume at American Heartland Live in May, sold on eBay: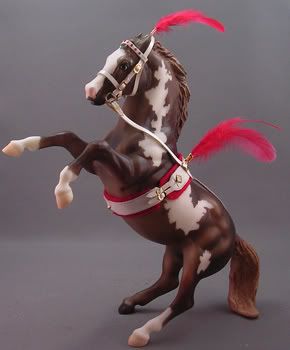 A custom order Traditional English set, made for Breyer's Keltec Salinero: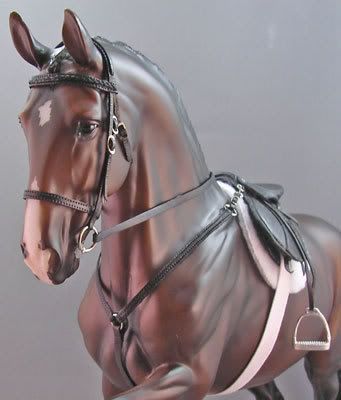 A closeup of the saddle: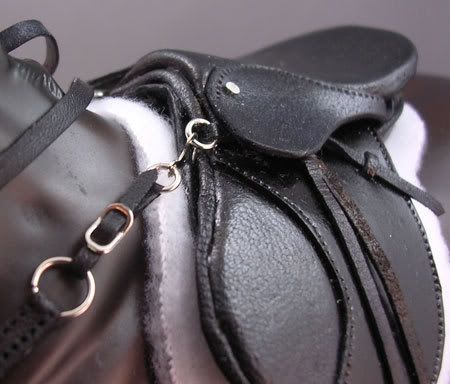 Two more custom order English saddles, both for Flash and other small Traditionals. The first was for customer wanting a complete set with bridle and elastic breastplate, the second customer only wanted the saddle. The second saddle has suede kneerolls.: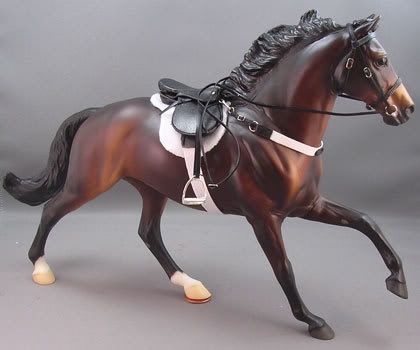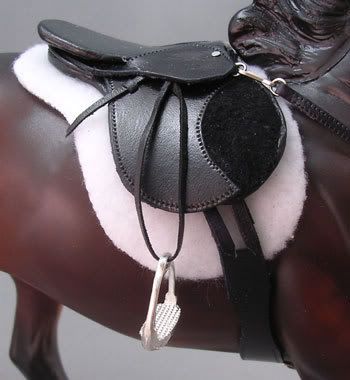 A brown hunt bridle with cast Rio Rondo snaffle bit, made for the Cleveland Bay. This is the first time I've made cuts in the noseband for the cavesson straps, I think this looks much neater than just folding the straps over the noseband.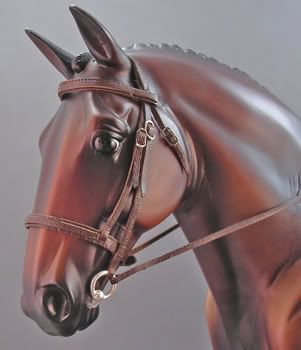 And something new for the line, dog accessories! Right now while only the collars are advertised, harnesses and leads can be ordered.
A "roading" harness, used in gun dog field trials by competitors and their dogs following the lead braces until their turn to hunt comes up(the handler uses a 20-30 foot rope lead). The yellow "visibilty" collar is 1/8" satin ribbon. A better photo of the leather collar can be seen below.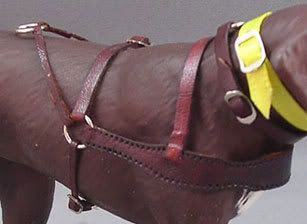 Two leather collars fashioned after the type of collar worn by hunting dogs. The nameplate mounted flat on the leather and the roll ring prevent catching on underbrush. Here the "nameplates" are both a metal spacer bar mounted using headpins. Very realistic! The blue collar has the addition of "studs"(also headpins!), which was a custom ordered extra to match the customer's real dog's collar.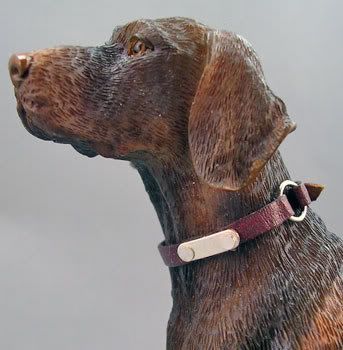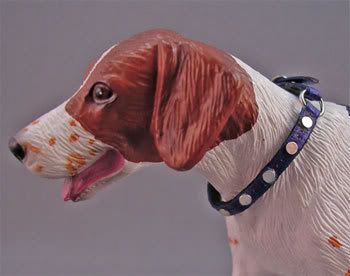 And last but certainly not least, a sneak peek of a collabarative piece. Remaking and sculpting by me, and will be painted by my sister. And you can bet he will come with plenty of miniature field dog hunting trials equipment...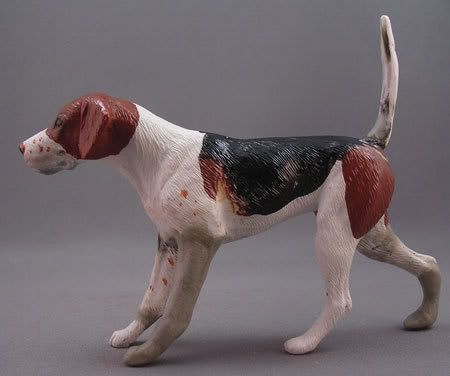 Until next time! :)