First off, I hope everyone has a safe and happy new year! We're at home, did absolutely nothing but eat a nice dinner(little smokies in BBQ sauce, quite tasty!) and now I'm turning in before midnight. I'm such a party animal.
But before that, here's what I've been working on and selling lately!
First is a bareback pad and bitless bridle set, made for the North Light Donkey mold. I forgot to update my blog when I posted it to eBay, so it is already sold, but I thought I'd show it off anyway: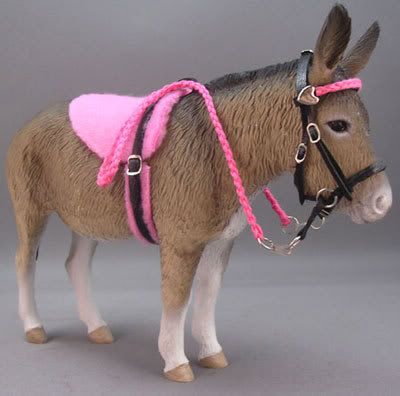 I will do another similar set around Valentine's Day, for a different model.
Next is a custom order, my customer is getting one of Susan "Pitbullmom" Tonielli's famous "purple pony" customs, and wanted a blue saddle for him to wear. This was the end result, I am very pleased with how it came out: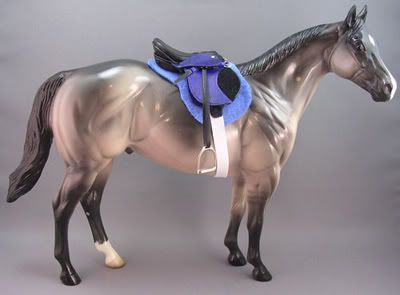 I still have a bit of blue leather left over, so I will be doing another for eBay in the future.
And last but not least are my latest Swarovski crystal-crusted creations,
click on the images to go to the auctions
:
A browband in peridot colored crystals(meant to liven up an existing bridle):
And a light or sport breed foal presentation halter, made for Breyer's "Ashley" mold, done with light siam colored crystals: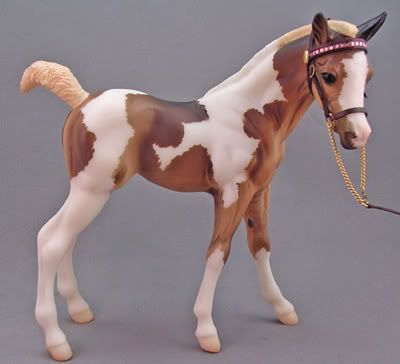 That's all for now, again, Happy New Year, everyone! See you in 2008!