Friday, February 22, 2008
Here's a little preview of a harness for Breyer's Wintersong mold...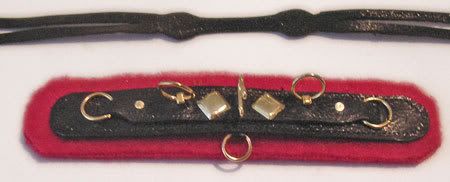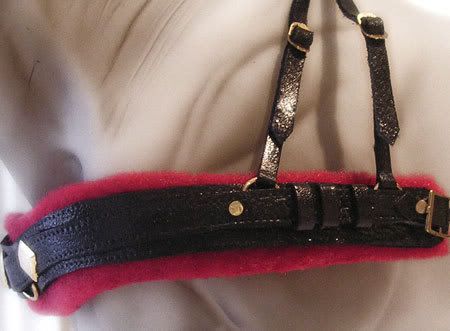 More photos to come soon.
Posted by

GWR
at 1:34 PM
No comments:

Friday, February 8, 2008
New for this week isa pair of bell collars. While I was working on another project I draped them over a St Bernard figurine on my dresser, and I thought it looked cute, so...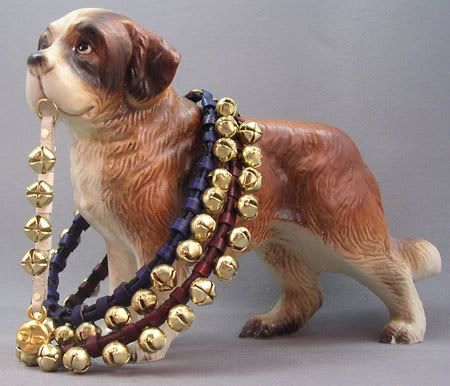 Neither of these are for sale, the blue set is a live show donation, the mahogany set is for a German customer's Babette resin. The white hanger is an expiriment inspired by a friend's new interest in dollhouse miniatures and the sleigh bell door hangers I found in my Smucker's catalog. I've also got a blue and a red one in progress.

The door hangers will be up on eBay this weekend.
Also, the Flash bridle from the previous post is now on
eBay
. I have plenty of other items up currently, click on my eBay store to go see them!
Until next time! :)
Posted by

GWR
at 9:23 PM
No comments:

Monday, February 4, 2008
A new Swarovski crystal bridle, made for Breyer's "Flash" mold: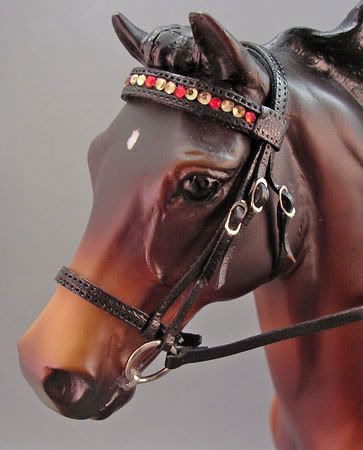 I went with alternating colors for the crystals, I think red and gold make a lovely combination. Definitely using this combo again on future projects! I also used a simple jump ring with bead mouthpiece bit, the bead is crimped in place over the ends on the jump rings.
Currently for sale on MH$P, click on the photo to go to that page.
Posted by

GWR
at 5:57 PM
No comments: