And here's what I've been working on lately! Most of it is CM orders or sales pieces that have been sold, the Cleveland Bay harness is for sale on eBay until April 27th(click on the photo to see the auction)
Trying out a simpler style with the crystal browbands(no lace border):

Light/gaited halter, built for Breyer's "Bluegrass Bandit" TWH mold, "palace green" colored crystals, sold on MH$P: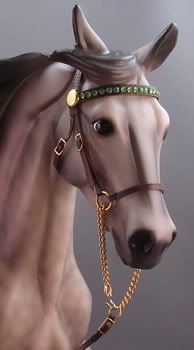 Light/gaited foal halter made on Breyer's Proud Arab Foal mold(modelled here on "Mistmaiden", an original finish #9 "Joy" made in the late 1950's/early 60's), aquamarine colored crystals, sold on eBay to the same person who bought the previous piece: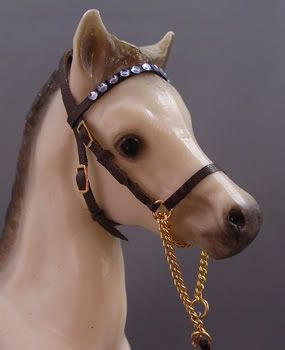 Harness:
I tweaked the Wintersong harness so it fit Breyer's Cleveland Bay. It can still fit Wintersong with some adjusting, and I'm including a longer browband and noseband that can be switched out(click on the photo to go to the auction):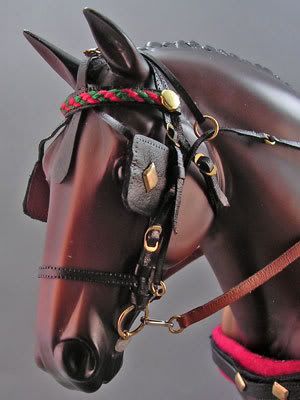 A pair of bareback riding sets with bitless bridles:

Custom order with "palace green" crystal browband, mahogany lace, braided floss reins, and white fleece pad: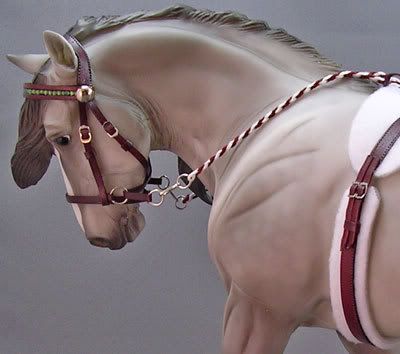 Another one for Bluegrass Bandit, a medium blue and dark brown set with gold tone hardware. I went with leather reins that buckle onto the bridle rings, instead of the usual lanyard hooks, and I used DMC floss in four strand flat braid on the browband. Sold on MH$P and now living in Australia: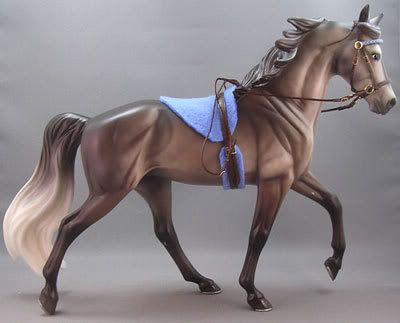 That's it for now, stay tuned for more CM orders and sales pieces! I'll be working on some setups for the upcoming American Heartland Live show on May 17th, I'll be posting a few sneak peeks.