I've gotten back in to slit-braiding leather lately, here are two new pieces featuring this technique. First up is a custom order bridle for a Lareda resin that my sister is painting. The bit is a RDLC white bronze flower concho bit.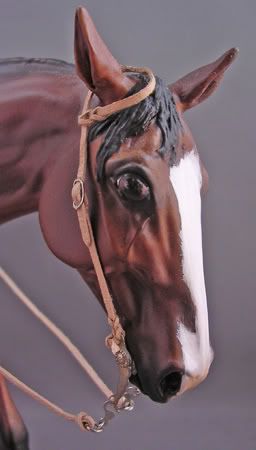 And second is a braided stock halter, made for large head Traditionals such as the Stone Palouse mold, and Lori Daniel's "Chip" resin: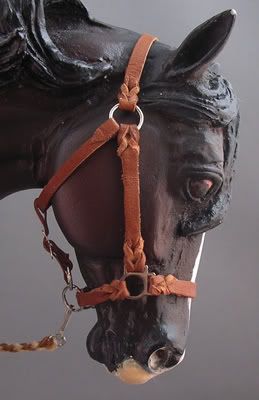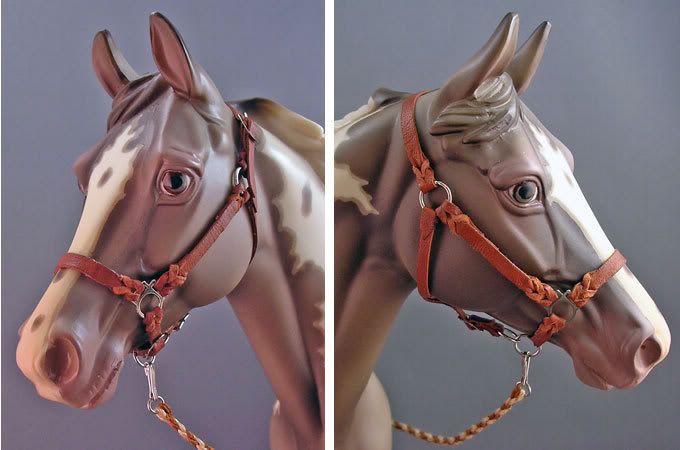 I used a different technique for braiding both ends of the straps(barring the crown, chin, and jaw straps):
Once I had one end braided, it made that end too big to thread through the slits on the other end;
So I braided one end, left that strap long;
then braided the other end and skived it paper thin and snipped off most of the strap;
I then trimmed the longer piece to a point(dry-fitting the strap on the model to make sure it was the right length first);
then glued the end of the long strap so the point was flush with the braid on the other end(which forms a point itself).

Voila! A strap that looks like it had two braided ends!

This halter is currently for sale on
MH$P
.
The Chip resin by Lori Daniels is a new addition to my collection, and is a trade I'm doing for a Hungarian pairs harness. More on that in future entries, though. :) This fellow's name is "Heza Confidence Man" (which is a nod to my new TV show obsession "Lost". XD ):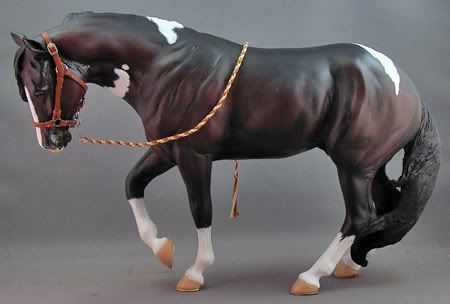 Many thanks to C. Roberston for making this addition to my collection possible. He's been a Grail of mine for years and I am beyond thrilled to have him. He'll be painted by my sister eventually(who's equally happy to have the chance to have one of these good lookin' fellows in her portfolio!), I'm thinking blue roan with corn spotting, my favorite horse color.
Until next time!